YouTube Movie of the Day - October 3, 2007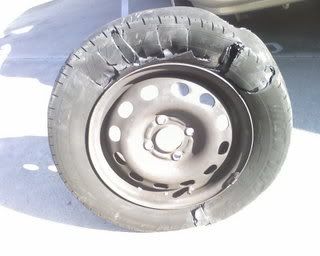 My front driver's side tire blew out as I was going 80 on 5 South coming home from my friend's house around 12 am last night. I legitimately did a 90 degree skid (with my driver's side facing the skid) in decent traffic for 100+ feet before I was able to correct it and pull off of the road without hitting a single car and/or guard rail. If the freeway wasn't slick with dew, I would totally have flipped. And flipped. And flipped some more. Holy fuck, I should totally be dead right now.
KungFu Mike = 1. Karma = 0. Suck my dick, Jesus!
Posted by KungFu Mike at 9:39 AM
Print Friendly · · · ·
Trackback Pings
TrackBack URL for this entry:
http://www.festeringass.com/mt/mt-tb.fcgi/1642
Comment Policy:
Anonymous comments are allowed. All anonymous comments and comments from those not registered with are moderated. They WILL NOT appear until they are read and approved by a moderator.
It is strongly encouraged that you sign up and login with a account. Once you do that, your comments will be immediately posted.
Comments
I'm a Christian and I loved that.
Posted by: Wayland at October 3, 2007 07:48 PM
take the tire and make new soles for your shoes
Posted by: not a doktor at October 13, 2007 05:30 PM
Post a comment
Get the latest from
R U D I U S M E D I A