Wow. Just wow. - December 2, 2006
This is an extremely shitfaced Mr. Fantastic (Evan) yesterday afternoon getting his first tattoo from an extremely shitfaced Baby's First Birthday. On his ass.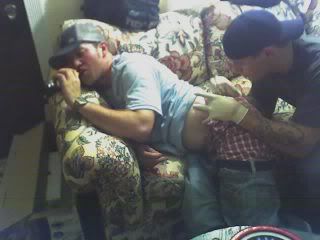 I don't even know what to say. Words can not do this scene any justice.
~KungFu Mike
Posted by KungFu Mike at 4:48 PM
Print Friendly · · · ·
Trackback Pings
TrackBack URL for this entry:
http://www.festeringass.com/mt/mt-tb.fcgi/309
Comment Policy:
Anonymous comments are allowed. All anonymous comments and comments from those not registered with are moderated. They WILL NOT appear until they are read and approved by a moderator.
It is strongly encouraged that you sign up and login with a account. Once you do that, your comments will be immediately posted.
Comments
Post a comment
Get the latest from
R U D I U S M E D I A