Viva Juggtropolis! - December 5, 2006
BEHOLD, A SHINING TEMPLE OF BOSOMS THAT WILL LAST A THOUSAND YEARS!
Ladies, here is where you can show your appreciation for KungFuMike.net. Just write me a little message in marker on your bra-clad (or sans bra, we're Equal Opportunity over here) chest, take a snapshot and send it to mikekungfu@gmail.com. This entry will eventually become its own permanent section in the fancy side menu. All submissions will obviously remain anonymous and will serve to boost the morale of all mankind. They will also serve to make my pants tighter.
Remember m'ladies, this is not a competition. Everybody is a first place trophy winner in Juggtropolis. You know, like the Special Olympics...except I don't feel as gulty about masturbating to it.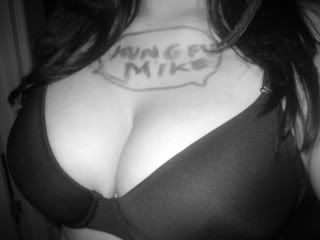 Posted by KungFu Mike at 8:07 PM
Print Friendly · · · ·
Trackback Pings
TrackBack URL for this entry:
http://www.festeringass.com/mt/mt-tb.fcgi/327
Comment Policy:
Anonymous comments are allowed. All anonymous comments and comments from those not registered with are moderated. They WILL NOT appear until they are read and approved by a moderator.
It is strongly encouraged that you sign up and login with a account. Once you do that, your comments will be immediately posted.
Comments
um, good listening skills.... im the man (= my boobs arent on here though. miss your face/phonecalls.
Posted by: fuckin awesome at December 9, 2006 12:36 AM
If I were to write "Fuck me, KungFu Mike," and the opportunity arose, would you?
This is assuming you conclude that I am at least acceptable.
Posted by: oh_shit at December 14, 2006 10:03 PM
Post a comment
Get the latest from
R U D I U S M E D I A