So this is what it sounds like--when whores cry - June 8, 2007
It sounds like, "MOM! MOM! MOOOMMMMMM!!!"
Paris Hilton was just dragged back to jail to serve out the unadjusted 45 days of her sentence kicking and screaming for her mommy. A dump truck filled with gorgeous, exotic concubines and wads of cash could empty itself in my driveway right now and my day wouldn't get any better than it is right now. I just looked out my window, and cartoon pandas and tigers are dancing down the street in perfect harmony. A vivid rainbow just shot across the sky. Jesus just winked at me. It's like a Jehovah's Witness pamphlet!
This image is so awesome that it should be laser etched into the face of the moon.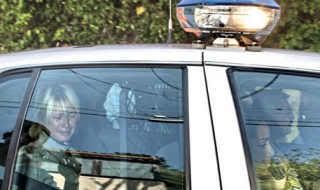 Posted by KungFu Mike at 11:49 AM
Print Friendly · · · ·
Trackback Pings
TrackBack URL for this entry:
http://www.festeringass.com/mt/mt-tb.fcgi/1262
Comment Policy:
Anonymous comments are allowed. All anonymous comments and comments from those not registered with are moderated. They WILL NOT appear until they are read and approved by a moderator.
It is strongly encouraged that you sign up and login with a account. Once you do that, your comments will be immediately posted.
Comments
Ah, sweet, sweet victory. This is so good, I'm going to go have a cigarette.
Posted by: at June 8, 2007 11:35 PM
Have you seen this one yet?
It's like that one, but close!
Posted by: at June 9, 2007 09:49 AM
It was beautiful, wasn't it? A grown fucking woman screaming for mommy.
Posted by: Priss at June 9, 2007 05:14 PM
Post a comment
Get the latest from
R U D I U S M E D I A