A Very Special Amber Alert. Please Read, Guys... - December 2, 2006
()
Hey everyone,

I know I'm a big jokester a lot of the time, but there comes a time when you have to push that bullshit to the side and do your part to help out someone in need...and that someone in need today is little Mikey Liebowitz.

Mikey lives in Boise, Idaho with his mother, father, uncle, sisters and his dog, Goobers. He is 5' 10", severely retarded, has brown hair and blue eyes. His helmet will be on him at all times and if you see him, DO NOT try to take it off, this makes him violent and irritable.

Little Mikey Liebowitz will come if called by his name or Captain StarSprinkles. It also helps to have a Charleston Chew on hand, Mikey loves them!

Mikey was last seen running naked through a cornfield in Boisie, flailing around one of his used diapers and screaming the theme song from Lambchop's Play-Along.

If you have any knowledge about the whereabouts of Mikey Liebowitz, please contact his mother Darla at their home phone number listed on his ID photo below.

Thank you very much, and God speed. Let's bring this special boy home.


~KungFu Mike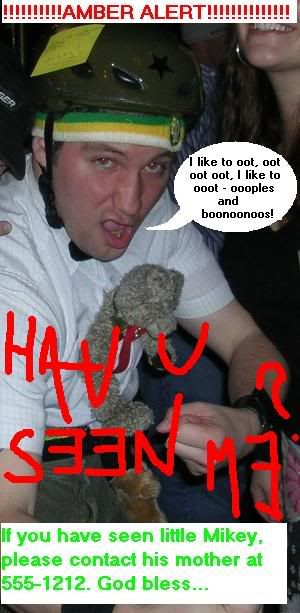 Posted by KungFu Mike at 4:31 PM
· · · ·
Trackback Pings
TrackBack URL for this entry:
http://www.festeringass.com/mt/mt-tb.fcgi/302
Comment Policy:
Anonymous comments are allowed. All anonymous comments and comments from those not registered with are moderated. They WILL NOT appear until they are read and approved by a moderator.
It is strongly encouraged that you sign up and login with a account. Once you do that, your comments will be immediately posted.
Comments
Hey um, there are no cornfields in boise...
Posted by: at January 4, 2007 05:30 PM
Post a comment
Get the latest from
R U D I U S M E D I A